Best E-commerce Hosting Providers for Online Store (Compared)
— January 20, 2020
•

9

Minutes Read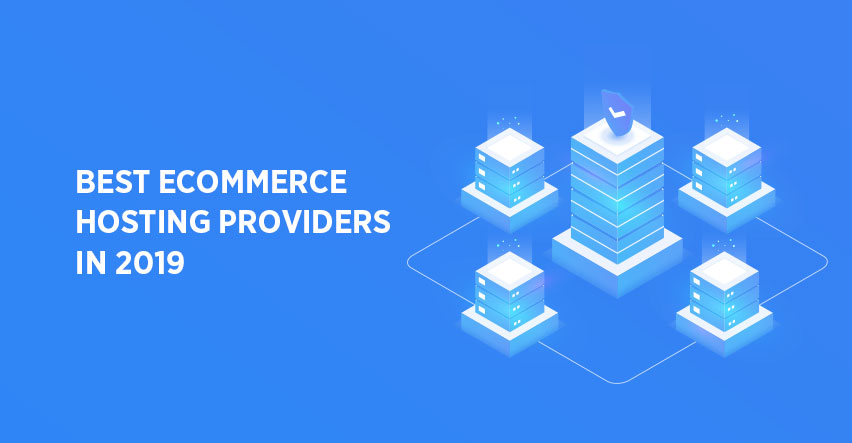 Disclaimer: WPblog is a part of Cloudways, a Managed Cloud Hosting service, but any assumptions or analysis made on this property belong solely to their writers.
In the early 2000s, Amazon stepped into the limelight as an online bookseller. Fast forward two decades, and it's the biggest online store in the world that even hit a market cap of $1 trillion in 2018. Of course, Amazon's rise to the top couldn't have been possible without Jeff Bezos' vision, hard work, and many other factors.
But one factor that we think really made its ascent possible was a reliable hosting provider, the absence of which can seriously halt any online store's success.
Hence, in this article, I will tell you exactly why your ecommerce store needs a robust and reliable ecommerce hosting provider, the features of a good ecommerce hosting provider, and in the end, the best ecommerce hosting options you can go with.
Let's begin!
Why Do You Need Ecommerce Web Hosting
You can search for the best ecommerce hosting providers right away, but wouldn't it be awesome if you have an in-depth understanding of why you'd need the best hosting for your store and what can go wrong if you settle for anything less?
Great. Let's find out.
Performance
Do you keep going back to an online store that takes an eternity to load product images or where you can't even complete your purchase because you're stuck on the checkout page? Yup, neither do we.
That's because an online store's performance is a crucial element for good user experience for online ecommerce stores. And a reputable hosting provider makes sure your site performs at its best, loads fast, and lets your customers shop seamlessly without any issues.
And since uptime is also an important part of a website's performance, a reputable ecommerce hosting solution makes sure you're online at all times throughout the year.
Security
No website is more information sensitive than an online store. For every purchase, you collect your customers' credit card information, address, phone number, and other personal information that you can never compromise on. And if your online store is hosted on some mediocre hosting solution, hackers may find it a tad bit easier to get their hands on the sensitive information your store holds.
A security-focused ecommerce hosting simply makes sure nothing of the sort happens. It usually has features like firewalls, SSL certificates, and login controls like two-factor authentication that are effective in keeping out the bad guys from accessing your store's data.
Staging Sites
Anyone running an online store knows it's not easy to add new features without running into some issues. Even if you're experimenting with a new plugin, things can go wrong and your business suffers in that case. Hence, safe practice in such a case is to test your changes on a staging site and when you are completely satisfied you can push them to your live website.
The best ecommerce hosting always provides a staging feature. Some hosting providers offer a staging environment as an addon where you have to pay an additional amount other than your hosting plan. I would never recommend these hosting providers because the staging environment is now a necessity not a luxury. Whenever you choose a hosting provider, make sure that your plan includes a staging site along with your live site.
Support
Running an ecommerce store means that you have to ensure that the majority of your workday is spent on managing your store and fulfilling orders. This would seem like a fantasy if you are on a cheap hosting provider because while you will be cutting your costs, you will also be compromising on support.
A reputable ecommerce hosting provider comes with expert level support that handles all your server and application management issues. It lets you focus on the business side of your store rather than the technical side.
Scaling
Earlier in the article, I mentioned how Amazon scaled its business from a bookstore to the biggest online store in the world. A poor hosting provider is one that doesn't grow with your business. It will prevent your online store from growing by not letting you scale your hosting plan easily.
Modern hosting providers let you scale your hosting plan with a click of a button so that you can let your online store grow exponentially.
Key Features of a Good Ecommerce Hosting Provider
Scalability
Previously I had mentioned how important it is for a hosting provider to let an ecommerce business grow without any limits. Scalability is one such feature that never lets you outgrow your hosting provider. This means, your hosting provider grows as your business grows.
Providers like Cloudways let you scale your hosting plans according to your needs. Suppose you are running a holiday campaign and you expect growth in your site traffic for that particular time frame. A good hosting provider will let you scale up your hosting plan so that you can easily cater to that traffic and downscale it once your campaign is over and traffic is back to normal.
Custom Backup functionality
Backup is something that every hosting provider offers nowadays. What's not common is a custom backup functionality, i.e., the ability to create backups at your desired time frame. Most hosting providers create backups on preset intervals, but what if you want to create a backup right before you make some changes to your site? Or you want to create a backup before launching a campaign? This is where a good hosting provider lets you create backups when you want to create them.
Cloning and Staging
When you tend to start an ecommerce store, you make a lot of changes to it to see what works and what doesn't. There is a lot of experimentation going on because you don't have the clearest idea of the perfect design or the most effective content.
Experimenting on a live website is risky so you need a cloning feature or better yet, a staging feature. A staging feature lets you create an environment where you can make changes to your website without having to worry about breaking it. Once you are satisfied with the changes you have made, you can push them to your live website.
Round-the-clock support
The importance of good support was discussed earlier in the article as well. A best hosting provider takes care of all your hosting headaches and lets you focus on growing your business. And that's how it should be, right? When you are paying a premium to a hosting provider, you would want them to take care of the technical side, while you are busy taking care of your customers.
Secure Socket Layer (SSL) certificates
I don't know if there is a simpler way to put it: SSL certificates are essential to your ecommerce store. It not only secures your website, but it also builds trust among your customers. As a frequent online buyer, I refrain from ordering something from a store that is not https. I automatically feel that my data is not safe with such websites.
Most good hosting providers offer free SSL certificates from Let's Encrypt. This is a good option because, in my opinion, you shouldn't be paying for something that is rather a compulsion and not an option.
Best ecommerce Hosting Providers for Your Online Store
Now comes the meat of the article. I will be testing three hosting providers and let you decide which one is the best for you.
Before I move on to the testing part, I feel obliged to tell you why I have chosen these three hosting providers in particular.
Cloudways – Best for Media to Large Ecommerce Stores
Cloudways is one of the fastest-growing cloud hosting providers in the industry. It offers managed cloud hosting at very reasonable rates and with an amazing set of features.
With Cloudways, you can choose from 5 different infrastructures:
DigitalOcean
Linode
Vultr
Amazon Web
Google Cloud
All these five infrastructures have different performance capabilities. For example, Amazon and Google Cloud are suited to handle larger stores. If your store receives thousands of unique visitors per day, then these two are more than capable of keeping your store up and running 24/7 with optimum speed.
Also, other than just WooCommerce, Cloudways offers application support for:
Magento
PHP
PrestaShop
OpenCart
So if you have a large store on either of these platforms, you can host it on Cloudways.
Furthermore, Cloudways lets you scale your hosting on the click of a button. With DigitalOcean, Linode, and Vultr, you can upscale your server anytime you want, and with Amazon and Google Cloud, you can even downscale your server.
WP Engine – Best Ecommerce Hosting for Small Business & Medium-Sized Stores
WP Engine is a popular name in the WordPress community. They were the talk of the town a few weeks ago when they acquired Flywheel, another well-known WordPress hosting provider. Judging by their activities, one can assume that WP Engine has a lot in its arsenal to expand into different horizons.
For now, WP Engine offers ecommerce hosting for WooCommerce stores. It comes with excellent support that is available 24/7 to solve all your hosting related issues. Their expert level support is one of the best in the industry, and one of the main reasons for their immense popularity.
Not to forget their powerful platform that lets you manage your application(s) with ease. There are multiple features that you can enable or disable in one click. For example, when you are creating a staging environment on WP Engine, you have four different options.
Create a new staging environment
Create a staging environment for a preset template with plugins and themes already installed
Create a copy of an existing site
Move an existing site to a staging site
Earlier in the article, I had mentioned how a staging environment is essential and is a sign of a good hosting provider. WP Engine fits perfectly in that profile.
Kinsta – Best Ecommerce Web Hosting for Small Online Stores
Kinsta is one of the new entrants in the market but that doesn't mean they aren't competing with the likes of Cloudways vs WP Engine. They have rather given a tough time to their competitors in a very short period of time. In fact, they have been the fastest growing hosting provider(s) in recent years while making a lot of fans in the community.
What made Kinsta so popular so quickly is its reliable support and easy-to-use platform. Their platform enables even beginners to manage their WordPress websites. They have made their platform in a way that makes it easier for even beginners to manage their site.
The auto-scaling feature makes it ideal for smaller stores that are expecting regular growth in their business. Kinsta's server automatically allocates resources to each as and when needed, so you don't have to worry about exhausting your RAM or bandwidth if you are a growing business.
Let's find out the best hosting providers for online ecommerce stores
Best hosting for ecommerce websites
I launched an ecommerce store on each of these hosting providers, added 500 dummy products to make them look like a proper store and tested them on GTMetrix for speed and performance.
Here are the results…
Kinsta Speed & Performance Test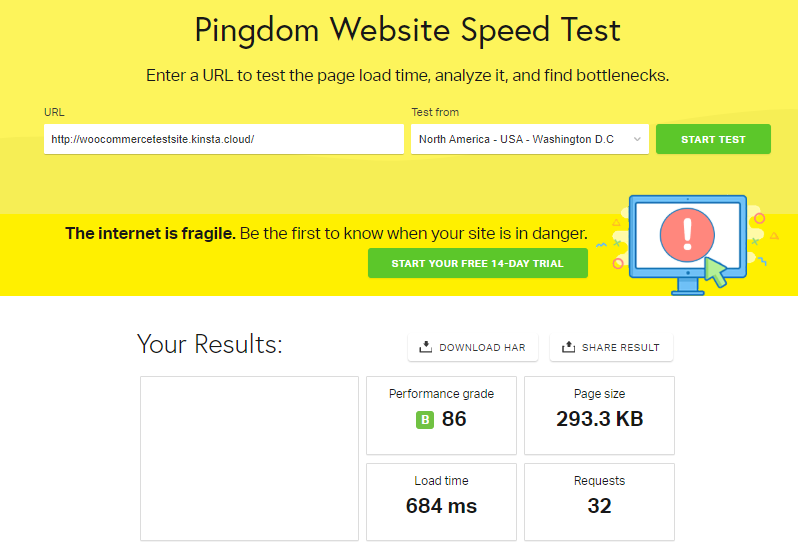 WP Engine Speed & Performance Test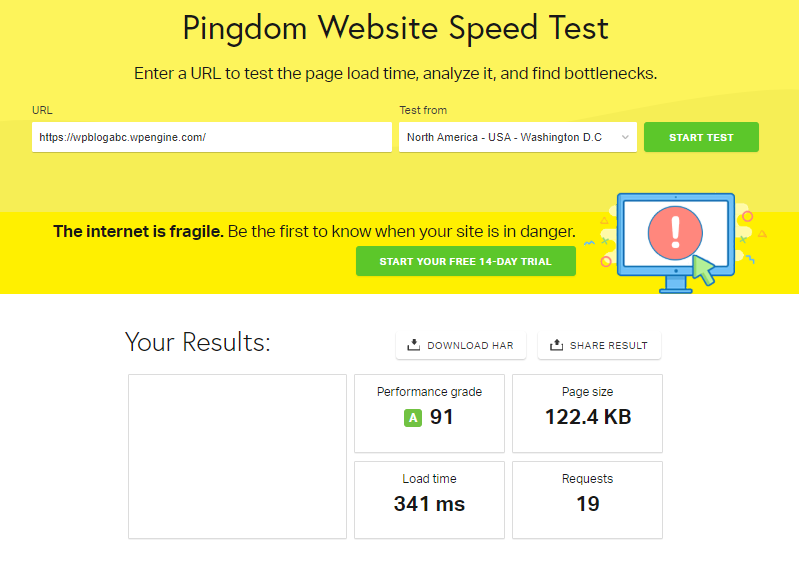 Cloudways Speed & Performance Test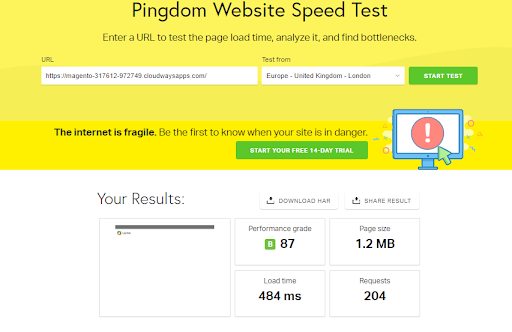 Best Hosting Provider for an Ecommerce Store (Expert Opinions)
Bryan Osima
CEO, Uvietech Software Solutions Inc.
www.uvietech.com
"WITHOUT QUESTION, THE RELIABILITY OF YOUR WEB HOST PROVIDER IS THE MOST CRITICAL ASPECT OF ANY BUSINESS ECOMMERCE SET UP".
If you've got the greatest ecommerce web front that is highly optimized for search, conversions, and sales but your web host cannot guarantee good uptime status or fast content delivery speeds, you're basically wasting your time and energy.
Every ecommerce store owner wants lots of traffic, sales and for their storefront to be online all the time and for the entire environment to
be safe and secure.
"IF YOUR HOST PROVIDER CANNOT HANDLE THE KINDS OF TRAFFIC YOU EXPECT, OR GUARANTEE ALMOST A HUNDRED PERCENT UPTIME STATUS OR THAT YOUR WEBSTORE WILL BE SERVED UP FAST ENOUGH FOR USERS WITH INCREASINGLY SHORT ATTENTION SPANS AND PATIENCE, YOUR BUSINESS WILL SUFFER".
"AND THOSE CUSTOMERS WILL IMMEDIATELY MOVE TO THE NEXT BUSINESS THAT CAN READILY MEET THEIR SHOPPING NEEDS".
Joshua Sosso
Owner / Fullstack Web Developer
Modii
Faster Load Times: Major brands have done extensive research on this. When your website loads quickly you get more conversions. This seems obvious but when you look at the numbers it's quite startling. For example, BBC found that for every additional second a page takes to load they lose 10% of users (Source: https://www.creativebloq.com/features/how-the-bbc-builds-websites-that-scale).
Walmart also discovered that they got up 2% increase in conversions for every 1-second improvement in load time (Source:https://www.slideshare.net/devonauerswald/walmart-pagespeedslide). I could go on and on. The bottom line is this. A good web host is one element that leads to faster load times which leads to more sales.
Less Down Time: Having a good hosting provider means that your site is less likely to go down. This is very important for eCommerce, as any downtime you have means loss of revenue and you could lose the trust of potential customers.
Traffic Surges: A bad web host will not scale well with high traffic. What if one of your marketing campaigns go viral and you get hit with a million visitors? The last thing you want is for your servers to crash! You should always have a plan for how to scale up to more visitors. A good hosting provider will be able to grow with your business.
Better Support: A good host will have a quality support system in place. The last thing you want is for something to go wrong and you have no reliable avenue to get help. It's always worth it to invest in quality upfront than pay for it down the road.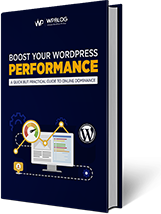 Create Faster WordPress Websites!
Free eBook on WordPress Performance right in your inbox.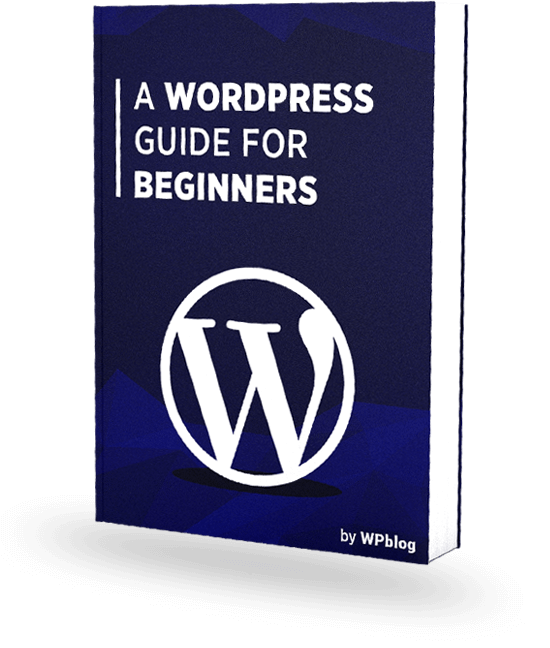 Create Faster WordPress Websites!
Free eBook on WordPress Performance right in your inbox.