Are you looking for a killer free theme for your website? Do you want the best-featured theme for free? If your answer is YES from any of the two above questions, then you have landed on the right page, because in this article I will introduce you to some of the best free minimal WordPress themes. Many large scale businesses are still running on a free WordPress theme because their needs are happily fulfilled by them.
I also think that it is not necessary to purchase a theme if your requirements are dealt with a free WordPress theme. So before purchasing a WordPress theme, I would suggest you read this article once. Maybe you'll find what a great WordPress theme for FREE.
Let's just cut to the chase and start exploring the top free themes. In this article, I have chosen the following 9 themes for you.
1. Spacious Theme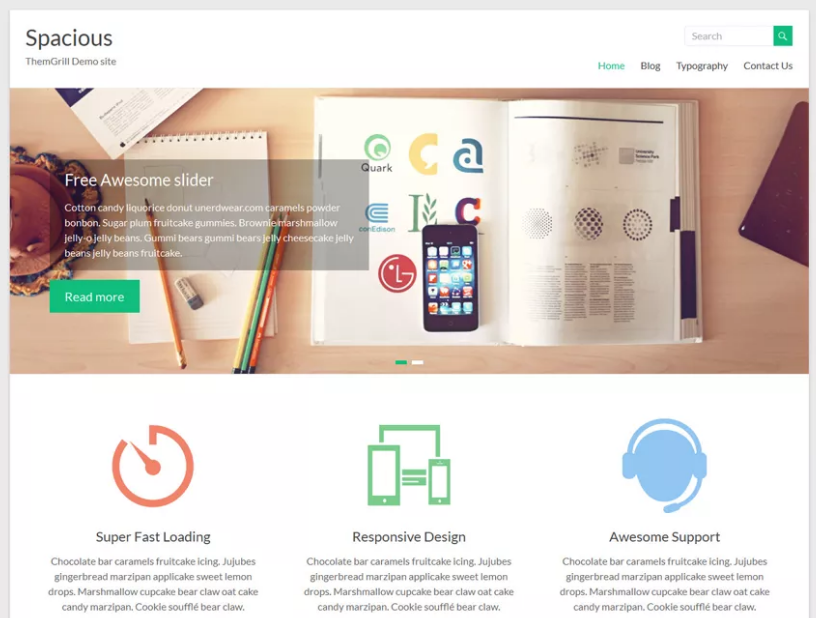 Spacious is my preferred and one of the top free WordPress theme because of its impressive features. Multipurpose and responsiveness, these two features make it to the favorite list for WordPress users. This theme can be used for Business, Portfolio, and Blogging. It is regularly updated.
Details
Active Installs: 80,000+
Download: Spacious Theme
Features
Spacious is a perfect business oriented theme that can help you create a beautiful business website in minutes. There are widgets like Testimonial, Team, Clients and Pricing. These widgets can help you set up your business website with an awesome look and feel.
WooCommerce Compatibility
Even If you are creating an online store, this theme can help you do so.
Responsive
12+ Widget Areas
From Header to Footer, you are given 12+ widget areas to place widgets on.
You can place direct links to Products, Purchase or even outside links with this widget.
Are you selling products or services? You can use this Widget to display pricing table.
Title tags are used to deliver your content to search engines to make your website SEO friendly.
Here are some other features: Featured Post Widget, Slider, Social Icons and Translation Ready.
2. Vertex Responsive Theme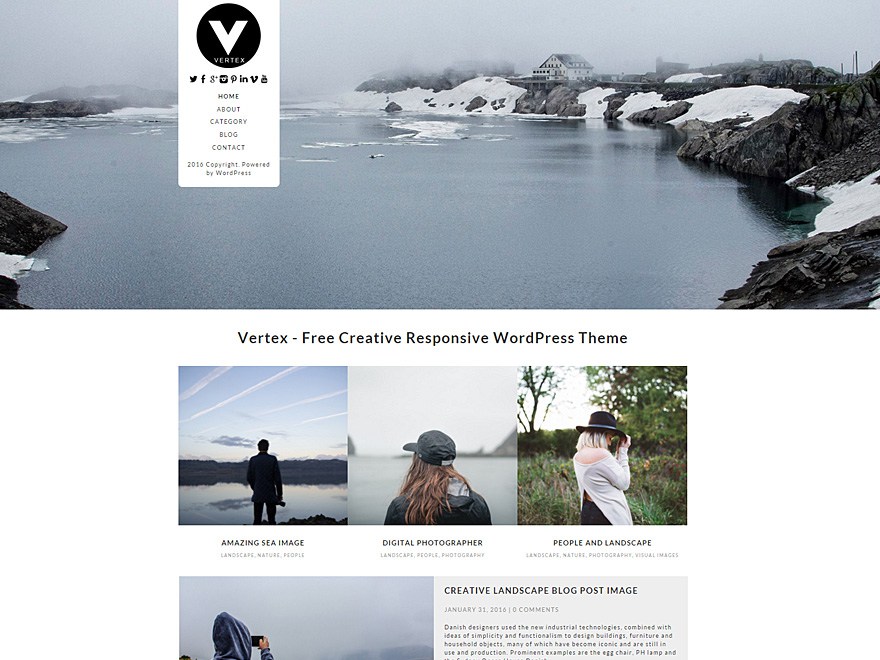 The very simple and beautiful blog theme, Vertex is one for the aesthetic freaks. The clean and sophisticated design makes your content very readable. With SEO friendly design and mobile friendly layout, your website will stand out.
Features:
Responsive Build in Slider
Custom Background Image
Custom Background Color
Theme Options
Menus Capability
Active Installs: 10,000 +
Download: VERTEX THEME
3. Fruitful Theme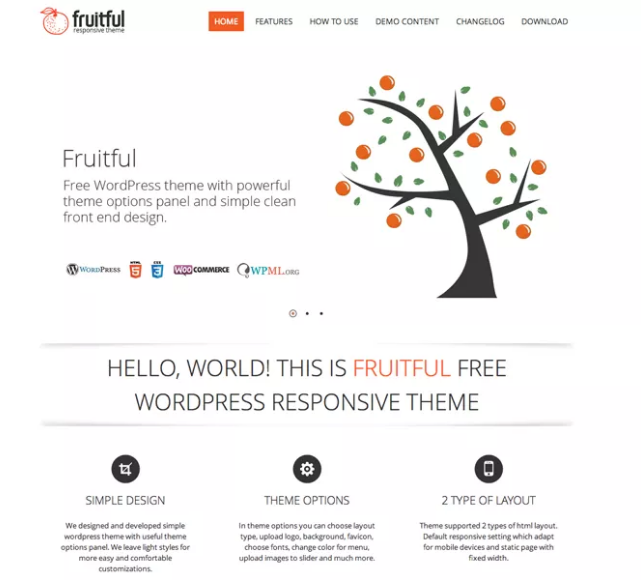 Fruitful is a responsive theme with powerful theme options and very simple front end design. It is also translation ready in various languages.
Details
Active Installs: 10,000+
Download: Fruitful Theme
Features
It has custom theme options for easy setup to meet your needs.    
Fruitful supports 2 types of HTML layouts, static and responsive.
It is equipped with web-safe fonts and 20 popular Google Fonts.
There are 2 jQuery Sliders included: Nivoslider and Flex Slide.
Here are some other features: Social Icons, Color customization, DEMO data included and GitHub support.
4. Vega Theme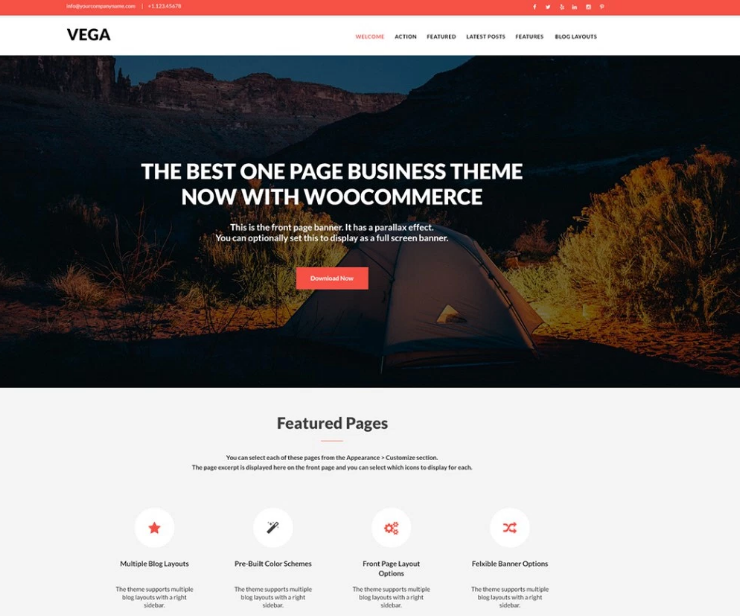 Vega is designed and maintained by lyrathemes and is said to be the best one-page business theme. Recently, it was equipped with WooCommerce support as well. You can use it for your Blog, business, and online store as well.
Details
Active Installs: 9,000+
Download: Vega Theme
Features
Responsive and Mobile Friendly
Vega meets the need for mobile friendly websites and works fine on all small devices.
WooCommerce Compatibility
Vega has been tested with WooCommerce and has basic WooCommerce support/integration.
You can use Vega to design a single page website for your business or brand.
There are various ways in which you can use the custom CSS option feature.
Vega has been tested with qTranslateX, for its Multilanguage feature.
Here are some of its features: Animated Content, Full Screen Image Banner, Multiple Home Displays and supports nearly all kind of websites.
5. Vogue Theme
Vogue is one of most powerful themes with features like responsiveness, WooCommerce integrity, and many others. Vogue can be used for blogs, stores, business and personal websites.
Details
Active Installs: 10,000+
Download: Vogue Theme
Features
Vogue is perfectly mobile with complete website and menus showing nicely on mobile devices and gives the best user experience.
WooCommerce Compatibility
Even If you are creating an online store, this theme can help you do so.
You can select the sidebar option to be on the right, left and full width as well.
Vogue integrates perfectly with most used plugins like Contact Form 7, WooCommerce, BuddyPress, SiteOrigin's Page Builder and more.
You can select from 4 different blog layouts – Left, right, alternate or image top layout.
Here are some other features: Social Links, Updates, Email support (Pro only) and Theme design settings.
6. Llorix One Lite Theme [Honorable Mention]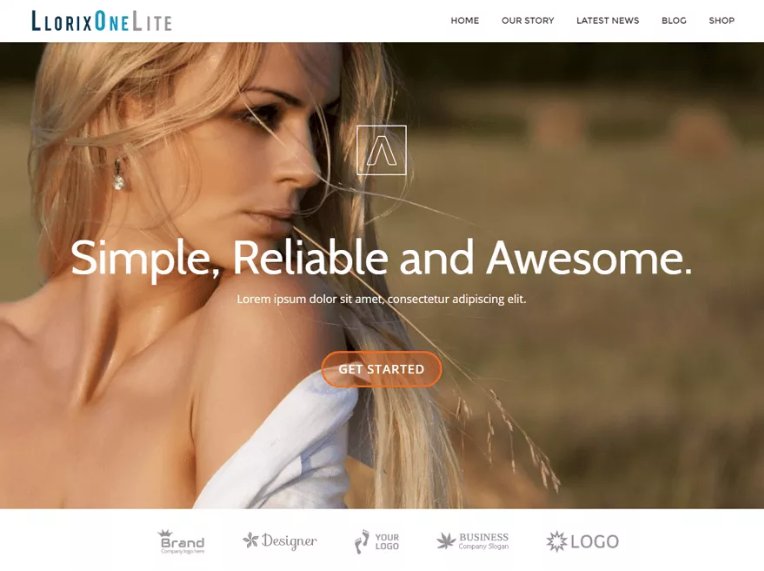 Another free WordPress theme that can help you build simple yet fantastic single page website. Llorix One Lite provides the modern look that can be used for any business and startup. Integration with various plugins is not an issue due to the perfect design of the theme.
Details
Active Installs: 10,000+
Download: Llorix One Lite Theme
Features
Themeisle brags about their ability to write clean code so that any person with a little HTML/PHP knowledge can modify their work.
WooCommerce Compatibility
You can create your online store by simply installing WooCommerce theme in it.
Llorix was designed to be a single page theme to increase SEO score and give better user experience.
You may not worry about different device resolutions on this theme.
You can easily update your websites basic settings like Logo, social links, colors, and layouts. Theme Options Panel is a simple plain option for that.
You can easily translate all the built-in theme text, without any modification. This feature adds to the power of this theme.
Here are some other features: Customizable Ribbon, Parallax Scrolling.
Zillah
If you are a blogger and looking for a simple yet elegant theme for your blog, then Zillah is the one for you. It is one of those minimal WordPress themes that gives your blog a stylish presence. The theme is friendly, responsive and puts your content out there for the readers to read with ease . It is SEO-optimized and has unlimited colors for you to choose from.
Features
Live customizer
Customizing your website has never been easier. With Zillah, you can customize your website and see changes in real time.
Custom Backgrounds
Zillah allows you to have your website background customized the way you like it. You can add images, sliders and even videos in your background. Pretty cool huh?
Optimized for speed
Along with its compatibility with popular caching plugins, it also comes with the out-of-the-box ultra fast loading time.
Mega Menus
Zilla makes it super easy for you to arrange your submenu content and it comes with a responsive and user-friendly mega menu.
Download Zillah
Phlox

The guys at Themeforest seem to be working really hard because Phlox is yet another powerful minimal WordPress theme that makes it to my list. As flexible as this theme is, it comes with rich tools and options so that makes it easier for you to make your website. It's more of a drag-and-drop page builder. You can use this theme to create any type of page without using a single code.
Features
Responsive and Retina Ready
This minimal WordPress theme adjusts to any screen size. So if your readers are coming from a desktop device, tablet or a mobile device, they will be able to view your content with ease.
5 Sliders Included
The theme comes with a range of sliders that you can choose from. The Cute Slider provides a pure 2D and 3D transition while the Revolution Slider comes with animation effects.
Exclusive Option Panel
With the option panel, you will be able to control every aspect  of your website. It allows you to customize your website without a single piece of code.
9 Page Types
With Phlox, you have more for everything. The 9 page types range from portfolios, products, News to F.A.Q, staff and price tables.
Download Phlox
Square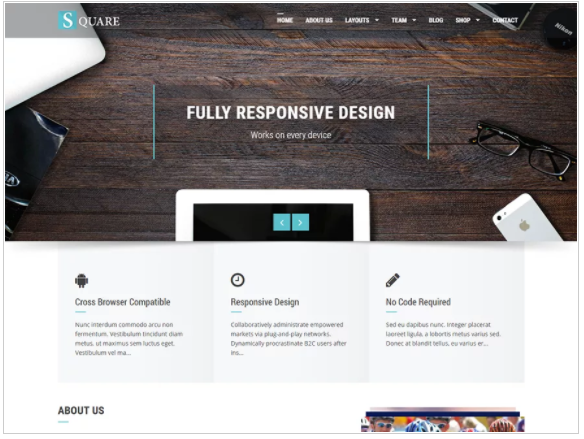 Square is another WordPress minimal theme that is extremely mobile-friendly and responsive. It is a multipurpose theme that is compatible with all browsers and devices. The theme can be used by digital agencies, bloggers, businesses and magazines. Square is ecommerce compatible as well.
Features
WooCommerce Compatible
With Square, you can also integrate WooCommerce and start your own online store on WordPress.
Support bbPress and BuddyPress
You can also start a forum on your website as Square is compatible with bbPress and Buddypress.
SEO Friendly
The theme is SEO-optimized. You wouldn't need to install heavy SEO plugins to get your website up there in the search engine.
Retina Ready
Square is compatible with every kind of device there is. Your readers coming from a range of devices will have no problem in viewing your content.
Download Square
Conclusion
I hope your views about free themes have changed after reading this article. Because of most of the WordPress users, including me at times, I never checked into free WordPress themes thinking that they might not do what we want. But now, you can see how powerful some free themes are. From building a business brand to an online store you can achieve a lot with these free themes.