10 Best WordPress Gallery Plugins of 2017
— March 20, 2017
•

7

Minutes Read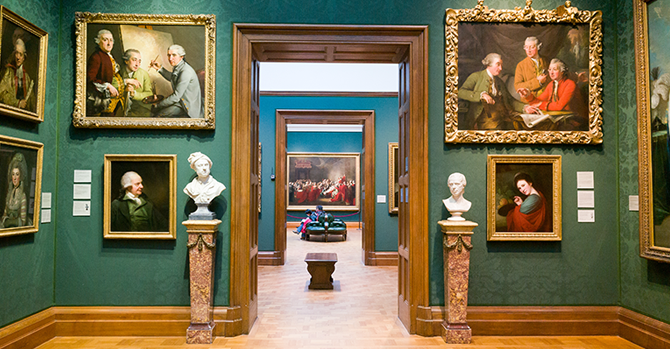 In the world of internet filled with words, images stand out. Images can, in fact, convey complex concepts in a simpler manner, which makes them far more valuable in many ways. Although WordPress has a built-in gallery to display images for your visitors, there is not much allure and functionality to it, and you'd be better off looking for a WordPress gallery plugin from other sources.
Fortunately for you, I took the liberty of sorting through hundreds of gallery plugins and bring to you only the ones that provide the best user experience and feedback.
Here's what I look for in Gallery plugins:
What to look for in a WordPress Gallery Plugin
Before installing a plugin, don't assume that the first result is the one to go with. There are some factors that you have to consider first, some of which are:
Features: Elements like navigation, lightboxes, animation, and pagination make the experience of gallery viewing more interesting.
Number of installs/rating: Before you hit that download button, it's important to check out the number of installs and the average rating. Compare it with the others and see which plugin has a bigger adoption rate.
Compatibility: This is the most crucial! Always check if the plugin you are about to download is up to date and if it's compatible with the latest version of the WordPress.
Speed: Like your site, your gallery should be quick in execution so as not to frustrate your users. You have to optimize each and every one of your images so that they can load quicker.
Ease of Use: We recommend trying out the free versions of the gallery plugins before you purchase them. Chances are that some of the features of a plugin may not be up to the mark, hence, you can make a better decision that way.
Let's take a look at which plugin fulfill all these criteria, and you can pick one for your WordPress blog to further your quest to display awsome images for your visitors!
Envira Gallery

In spite of the fact that Envira is a relative newcomer, it's been making serious strides in popularity thanks to its features and usability. The plugin enables you to create incredible photos as well as video galleries in under a span of few minutes.
In order to make sure your site is flexible, the plugin is powerfully light, which works great if you wish to display a number of high-quality images in your gallery. It's also responsive, which means that the gallery can be displayed just as beautifully on a mobile device as it would on its desktop counterpart.
It also has a simplistic interface that allows you to drag and drop images to your gallery without hassle. Its one-click function allows you to export and import images to and from other websites. Envira Gallery is the brainchild of the same team behind WPBeginner and OptinMonster so you can expect good stuff!
NextGEN Gallery
It's not every day that you find a WordPress plugin with over 16.5 million downloads like that of NextGEN Gallery. So it's safe to say that not only is it one of the most popular plugins available, but also one of the most powerful.
The free option provides users with hundreds of options and plenty more when you upgrade to the Pro version. It goes without saying that NextGen Gallery is on the hit list of the world's most revered photographers, imaging professionals, and visual artists.
Some of its many common features include 4 built-in lightboxes, slideshow galleries, compact and extended albums, the ability to import and export metadata, controlling size, style, watermarking, transitions, and so much more.
FooGallery

From the same team that brought you the lightbox plugin FooBox, FooGallery is free and loaded with intuitive and extensible features. But even with those features, the plugin is light and easy to integrate. Hence, your site and gallery will be easy to load as a result.
Developers can make custom extensions with the hooks and filters that are available with FooGallery, which are then made available to FooGallery users. Given how it is modular and extendable, the core plugin remains extremely lightweight and that allows for great flexibility.
If that's not enough, then you'll be happy to know that FooGallery now comes with Retina-support in which displays images with crystal clear quality on Retina-display devices.
Gallery

Don't let the generic name deceive you because Gallery packs a whole lot in its arsenal. With its vast array of intrinsic and customizable options, you can create a responsive gallery in a matter of minutes. It provides a ton of tools to add and edit images for different views.
You can also add your galleries and albums to various posts, pages, and widgets, as well as add detailed descriptions to images and organize your galleries into different tags and categories.
Huge-IT Gallery

Huge-IT Gallery is no slouch when it comes to crafting a smart and attractive image gallery for your site. With an average rating of 4.4 stars and 80,000+ active downloads, it's not hard to see that that reputation is right on the money.
You can do more with your images and videos by adding titles, descriptions and choose from over 7 beautiful views. There is no shortage of images that can be uploaded to the gallery of your website. What's more is that you can spruce up your images with dozens of wonderful effects available with this plugin.
Gmedia Gallery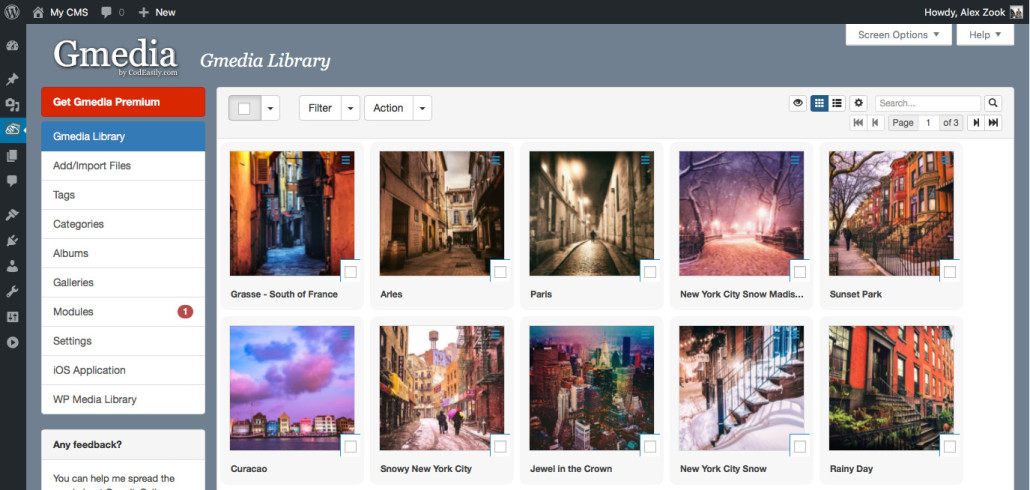 If there ever was a better way for you to manage and display the photos on your site, Gmedia Gallery is the answer you seek. Its interface is quite robust but user-friendly, which gives you all the more tools to be just as precise with your image customizations as you want to be.
Apart from the fact that you can create an unlimited number of galleries to your liking, you can save your visitors the headache of being lost in the clutter by including specific categories and tags for each of your images.
There's a wide selection of modules that will help you embed the galleries in your site to make them feel like they belong.
Huge-IT Portfolio Gallery

Portfolio Gallery is your best bet to showcasing your work and experience to your potential employers and clients. If there's one of many reasons why you should bank on this plugin, it's that it keeps all of your image and video galleries in a neat and organized manner.
You can choose from over seven amazing layouts that are animated and lightbox-enabled. Each of them comes with HTML and text hyperlinks and also custom URLs that take the user to a more detailed version of the portfolio in another window.
Download Huge-IT Portfolio Gallery
Photo Gallery by Supsystic
If it's sleek and chic you're looking for in your site's gallery, Photo Gallery is the one to call. Get your images and portfolios organized in an orderly manner that is both strikingly idyllic and efficient.
There's an unlimited number of options available for your convenience as well as a plethora of styles and designs that aims to give your galley meaning and pizzazz. Apart from that, the plugin lets you upload and publish images in bulks, thereby making image management less stressful.
Download Photo Gallery by Supsystic
GalleryManager

Save yourself the hustle of managing your image galleries with galleryManager. The WordPress backend is where you will be doing all of the heavy liftings, so to speak, but in an uncomplicated manner. It syncs and optimizes your images on any digital device and makes them easily accessible as well.
It does not require any software to install, does not contain any device fees, has unlimited storage and backup, free upgrades and seamless web integration. It has its own dedicated encrypted servers, which completely masks your online activity to any unwanted third-party.
WP Photo Album Plus
The plugin is not only an image gallery plugin, it is a customizable media management system. If you have a website where you want users to visit and rate your photos, then this is the plugin for you. With this plugin, your users will also be able to comment on your photos.
The setup is not that straightforward but once you are past the learning curve, you will find many customization capabilities that no other image gallery plugin has.
Get Cracking on Your Gallery Plugins
Now that all has been said and done, the final decision on which gallery plugin best fits your site's needs depends on you. Remember, you don't necessarily have to take our word for it; you only need to trust your guts and determine what will make your site look the most appealing.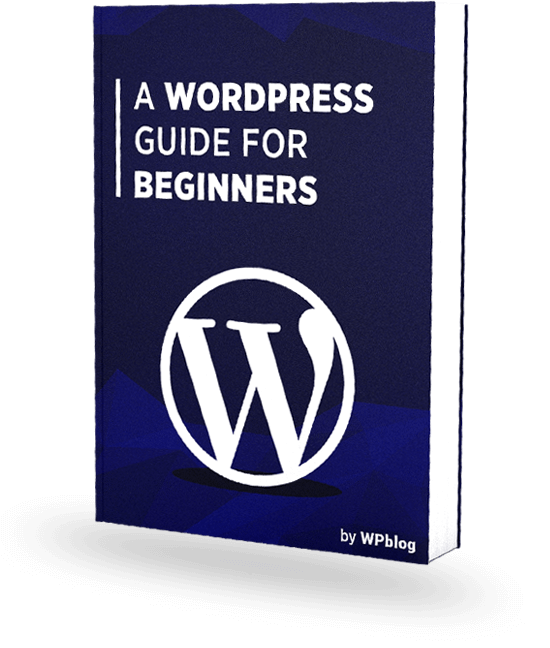 Subscribe to Get a FREE WordPress Ebook Right in Your Inbox
WPblog provides the complete guide to launch your WordPress website completely FREE!