If you are an avid blogger, at times, you might want to add an audio or a video file to your WordPress post. Today, we are going to discuss how one can achieve it. You can upload media files to your WordPress website using the WordPress Media Uploader.
WordPress Media Uploader allows users to upload images, documents, videos and audios creating a return reference link of the selected media files directly on the post.
So without further ado, let's discuss how one can embed media format files to WordPress.
Embedding Audio Files into WordPress
To add a single audio file to WordPress, simply navigate to your Post Editor and click on Add Media.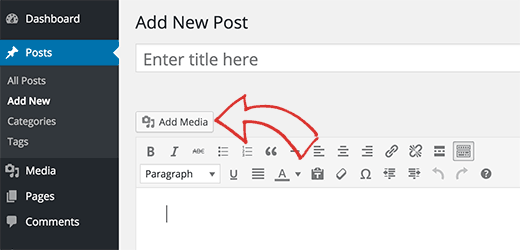 Automatically, you will be prompt up with a media uploader screen. You can simply select the audio file you wish to upload and click the Upload file button. Once uploaded, you simply have to click insert button.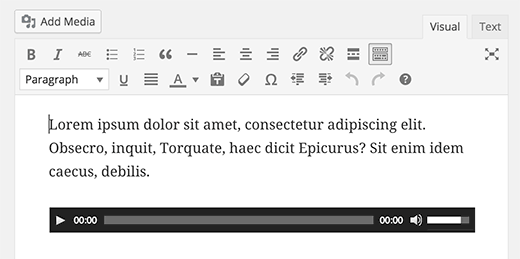 You can now see your media file embedded in your WordPress post.
Keep in mind that WordPress only uses HTML5 audio tags to embed audio files at the backend. It is compatible with most modern devices and works particularly well for mobile devices as well. HTML5 audio tag supports MP3, OGG, and WAV file formats.
If your audio file belongs to a different format, then you will need a third party application to run these files on WordPress. You can easily find the required plugins for third party installation in the WordPress plugin directory.
Embedding Video Files to WordPress
In the previous versions of WordPress, you had to create a certain line of code to add videos to your desired WordPress Post. However, today, WordPress has transformed itself into an amazing CMS. The main aim of WordPress team is to make tasks as simpler and user-friendly as possible.
Now, in order to add a video to your desired post, all you have to do is access it's related embedded link. Such links are generally present underneath each video on different media platforms. In case of Youtube, if you want the video to be embedded to your WordPress Post, all you have to do is copy and paste the desired link in the Visual window of your Post Editor.
However, if the video is from any other media source such as Vimeo, DailyMotion, etc. then all you have to do is copy the specific video's embedded codes and paste it in the Text window of your Post Editor. Make sure that the link is placed correctly where you want to Video to be displayed in your article. You can check it by simply previewing your post using the Preview option.
Embedding External Image Files to WordPress
So, that's all folks, we hope this article came in handy to learn how one can simply embed Audio and Video files to WordPress. Don't hold back, if you have any queries or suggestion, please feel free to leave a comment below.
The method I am going to tell you does not upload the image into your media gallery. The images from websites will be called directly through the link. If the source website removes the image, it will automatically be removed from your website as well.
Click on the Add Media button on the top right of your WordPress editor.

Choose the Add Via URL option and paste the URL of the file before clicking Insert Into Post.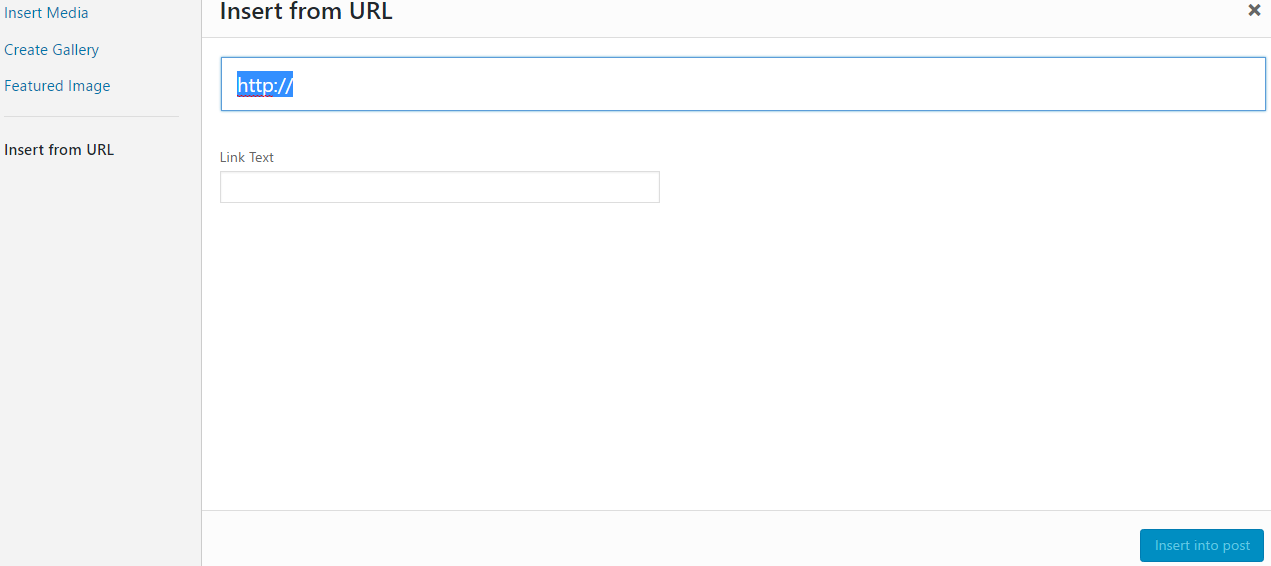 That's it! Pretty easy wasn't it? The image will be embedded into your post from another website.
You Can Even Use a Plugin!
You can manually embed files into your posts by using the methods mentioned above. If you need to use a plugin, you can do that too.
Embedly is a plugin that embeds files into your posts automatically. It will enhance the WordPress embedding to get previews of any article. With Embedly, you can also embed Gfycat, Twitch and Google maps.
Embeds can also be customized according to the theme of your WordPress website. You can adjust width, length and can also add social buttons to your embeds to make it easier for users to share.
With Embedly Cards Account, you can link it to your plugin through the Embed API key. It removes branding and gives you access to analytics. You can find out how many people viewed your embeds.
So, that's all folks! We hope this article came in handy when one needs to learn how to simply embed Audio and Video files to WordPress. Don't hold back, if you have any queries or suggestion, please feel free to leave a comment.