WordPress Superheroes To Follow in 2020 [With Exclusive Tips From Some Influencers]
— December 3, 2019
•

11

Minutes Read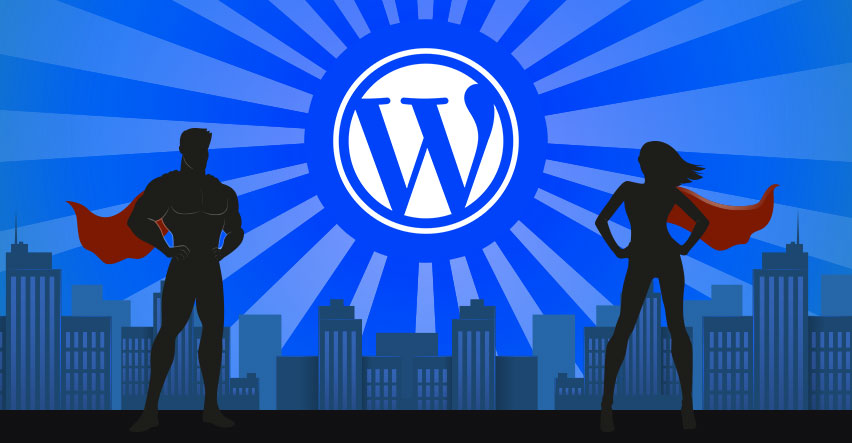 Marvel's got Superman and Batman.
DC's got Ironman and Spiderman.
It doesn't matter that we got the world's mixed up. What matters is that these superheroes have defined and kept these universes alive and our interests hooked for many decades. Without these names, both these legendary media franchises are nothing, and similar is the case for something as vastly different as WordPress.
While WordPress on the surface may not be as interesting as Superman and Hulk going at each other, it does power more than 34% of the internet, and that's something. But WordPress's popularity and functionality aren't cropping out of nothing.
There are superheroes out there who've taken Stan L… err… Matt Mullenweg's creation to the next level and are now keeping its flag flying high.
Following them is like following your favorite superheroes because they keep us informed and entertained all the time. 😉 So without further ado, let's take a look at the people who've done their bit to make WordPress what it is today.
1. Chris Lema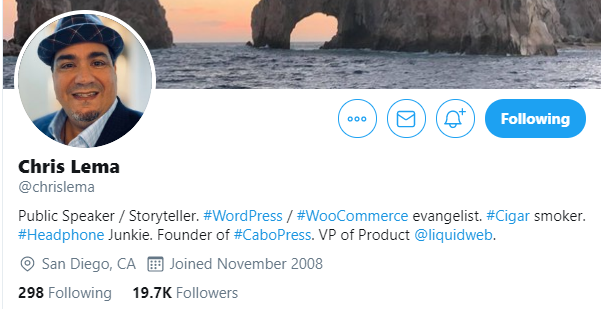 Chris Lema is a public speaker and blogger. He is a WordPress evangelist and product strategist. He also runs CaboPress and is the VP of Product at Liquid Web.
Best known for: CaboPress
---
2. Syed Balkhi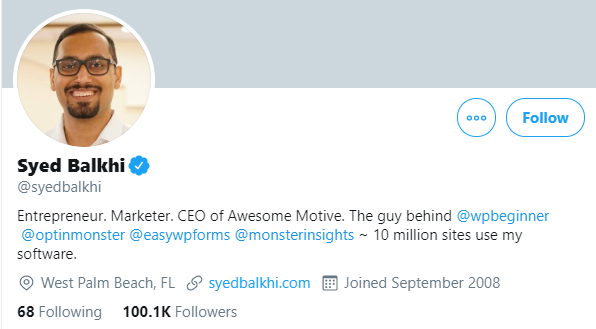 Syed Balkhi is a Pakistani American Entrepreneur who is known for his work on a popular WordPress resource, WPbeginner. He is also a contributing writer at Huffington Post and Entrepreneur. He is also the founder of List25.
Best known for: WP Beginner
---
3. Ivica Delic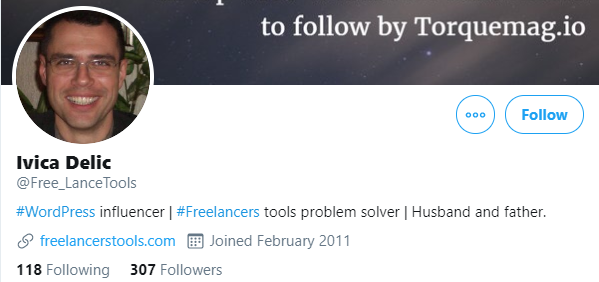 WordPress influencer with the biggest passion for learning and teaching about WordPress plugins, on-line tools, browsers, desktop/mobile applications, and SEO.
Keep the balance between your WordPress business and private life. DON'T burn out. If you get sick it wont do anybody any good.

Do the networking. Meet the new people, help them out, go into WordPress Facebook groups and Quora.

Work on yourself. Learn new things daily, WordPress and other. Practice. Improve. Just do.
Best known for: Managing Multiple WordPress Groups
---
4. Joost De Valk
Joost De Valk is the founder of the popular WordPress SEO plugin, Yoast. He is a specialist in the field of SEO, WordPress and Web Development. He is also a public speaker and has spoken at popular conferences like Search Engine Strategies, Search Marketing Expo, SASCon, A4UExpo, and WordCamps.
Best known for: Yoast SEO Plugin
---
5. Chris Coyier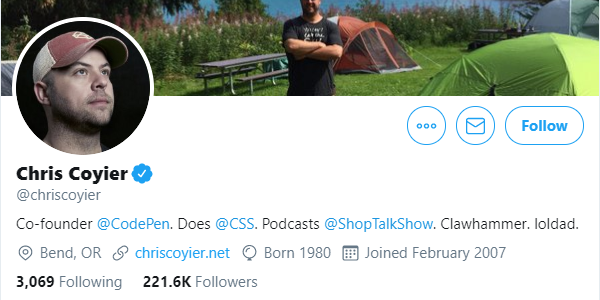 Chris is a web designer and developer. With 10 years of experience, Chris built CSS Tricks, a website dedicated to web designing. He is also the co-founder at CodePen, it provides a social environment for a front end web designers and developers.
Best known for: CodePen
---
6. Brad Williams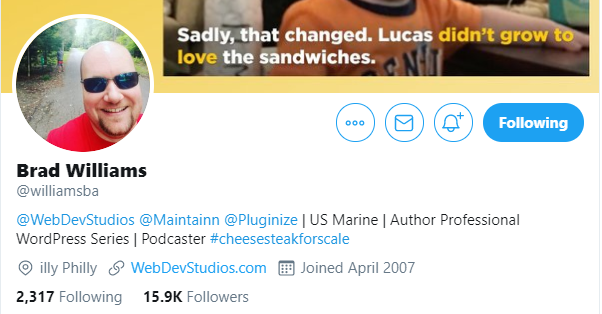 Brad works at WebDev Studios, Maintainn, and Pluginize. He is the author of many professional WordPress series. Brad also co-organized WordCamp Philadelphia and WordCamp US.
Best known for: Maintainn and Pluginize
---
7. Jeff Starr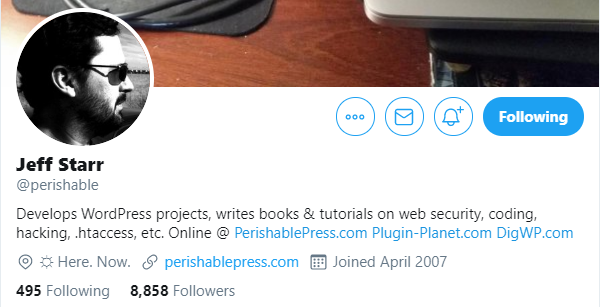 Jeff is a professional designer, developer, author, and publisher. He has worked with Perishable Press, Tao of WP, DigWP, .htaccess made easy, and plugin planet.
If you really want to succeed with WordPress, advance your code writing skills. Wherever you're at with code, it is important to always keep learning and improving your skills. Brand new to the Web and know zero code? Start with HTML and CSS, then learn how to write PHP along with the WP API, like functions and template tags. Learning how to write code, or at least understanding what you are looking at, will help you exponentially when it comes to customizing client sites, designing theme templates, and even developing your own WordPress plugins. And of course, if you've already got mad HMTL/CSS/PHP skills, WordPress throws down the gauntlet with the whole new world of Gutenberg Block Editor.

No matter where you're at with WordPress — total beginner or massive expert — never stop improving your coding skills.
Best known for: Tao of WordPress
---
8. Troy Dean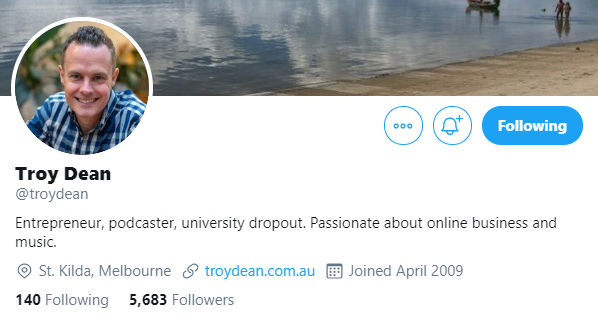 Troy Dean is the founder of WP Elevation, a popular WordPress podcast for WordPress consultants. He is also an online marketer and specializes in training businesses on how to attract new customers.
Best known for: WP Elevation
---
9. Tom McFarlin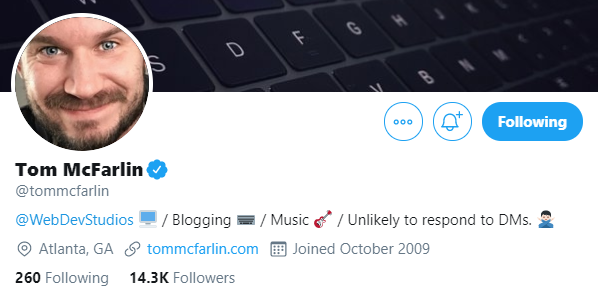 Tom blogs about software development and WordPress. He has a huge social media following mainly because of his WordPress knowledge and his engagement with his followers.
As a backend engineer, one of the things I can't stress enough is blogging about the concepts you're applying in your day-to-day work. Engineering is one thing, but being able to communicate how you're solving your problems. Sure, you'll get better at articulating your ideas and you may even think of another way to solve the same problem all the while helping those who are reading your work. Ultimately, blogging about what you're doing is one of those things that not only helps you but others around you.
Best known for: Top WordPress Developer
---
10. Brian Messenlehner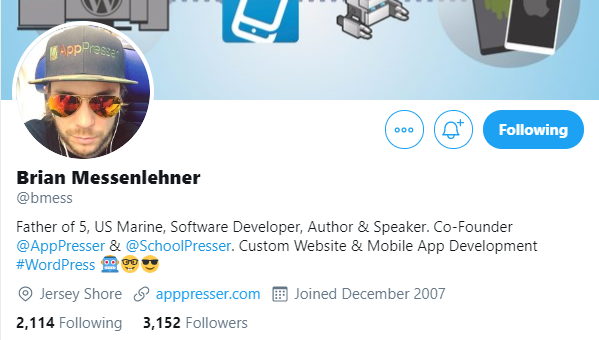 Brian is a US Marines software developer. He is the founder of WebDev Studios. He also works with mobile apps with WordPress and App Presser. Brian is also associated with BuddyPress and WooCommerce.
Best known for: App Presser
---
11. Chris Burgess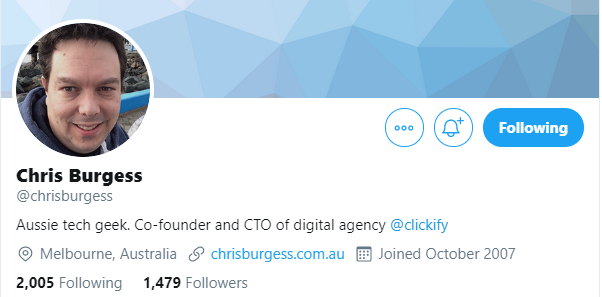 Chris is a web and technology enthusiast from Melbourne, Australia. He enjoys presenting on technical topics to various user groups. He helps run the Melbourne WordPress user meetup and Melbourne SEO meetup.
Best known for: Clickify
---
12. Justin Tadlock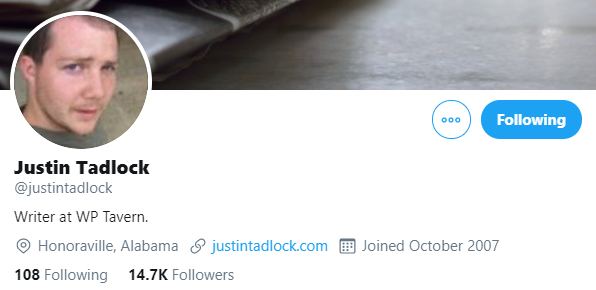 Justin is the owner of Theme Hybrid and co-reviewer at Theme Review. He is also the co-author of professional WordPress plugin development.
Best known for: Top WordPress Developer
---
13. Deborah Edwards-Onoro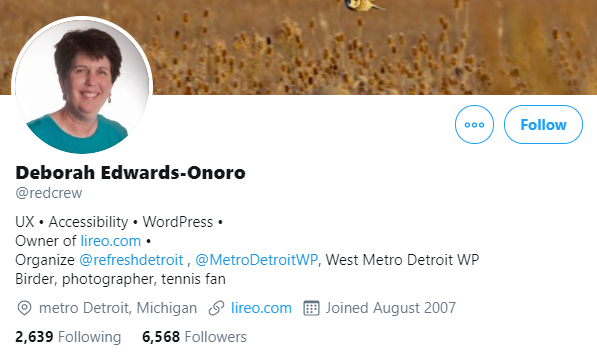 Deborah Edwards is the owner of Liero Design, a web design, and development company in Canton, Michigan. She is a front end web developer who uses WordPress to create beautiful websites.
Best known for: Lirio.com
---
14. Andy McIlwain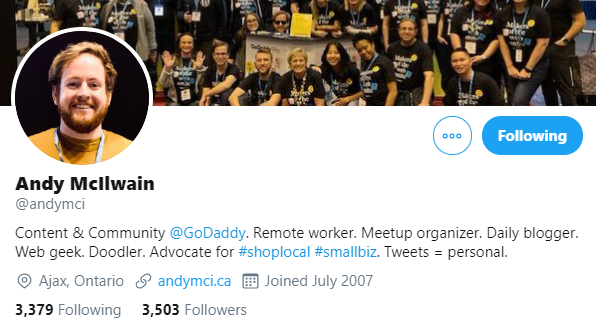 Andy McIlwain works on content and community projects at GoDaddy. Prior to that he was a web specialist and provided project consulting, training, support and contract development work.
Best known for: Marketing Enthusiast at GoDaddy
---
15. Adam W. Warner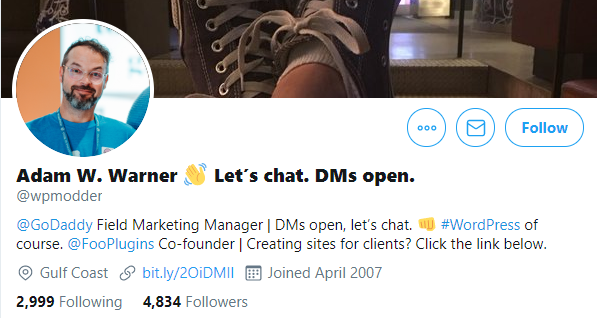 Adam is the co-founder at FooPlugins, a popular WordPress plugin development company. He is a WordPress Evangelist at SiteLock and also runs a WordPress agency, succeedwithwp.
Best known for: FooPlugins
---
16. Cory Miller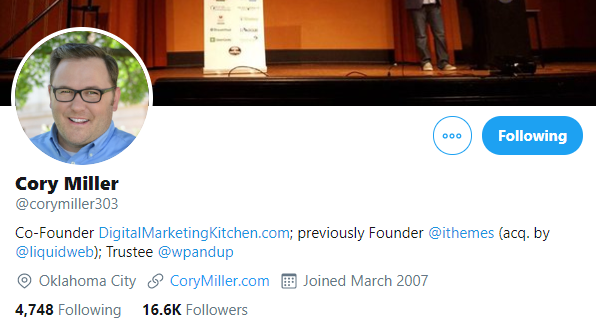 Corry is the founder at iThemes, Backup Buddy, iThemes exchange, and iThemes security. He is also the co-founder at The Div. Inc, which is a non-profit organization aimed at providing web development training to the youth.
Best known for: iThemes
---
17. Lisa Sabin-Wilson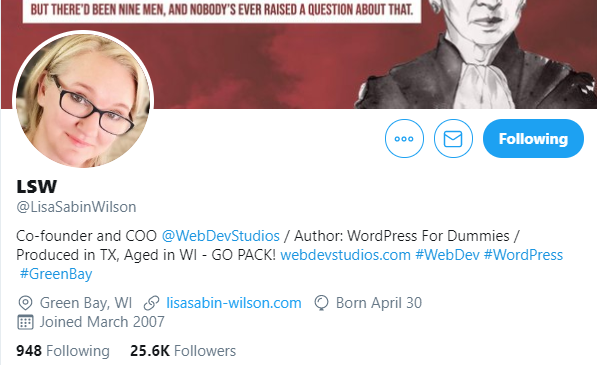 Lisa is a co-founder at WebDevStudios. She provides leadership, management and the vision necessary to sustain the business. Prior to that, she was a freelancer providing custom WordPress design and development services.
Best known for: WebDevStudios
---
18. Mark Jaquith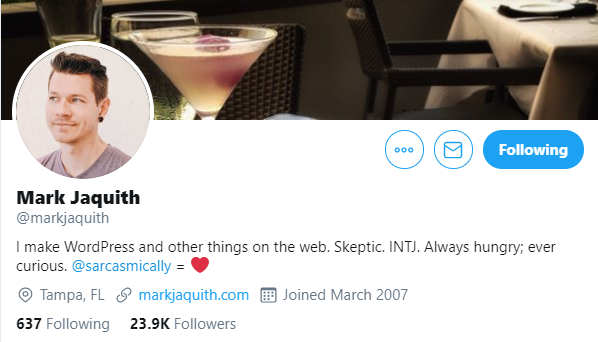 Mark is a lead developer on the WordPress web publishing platform. He is a web publishing consultant providing his services to everyone ranging from startups to huge media companies.
Best known for: Lead developer, WordPress
---
19. Jason Tucker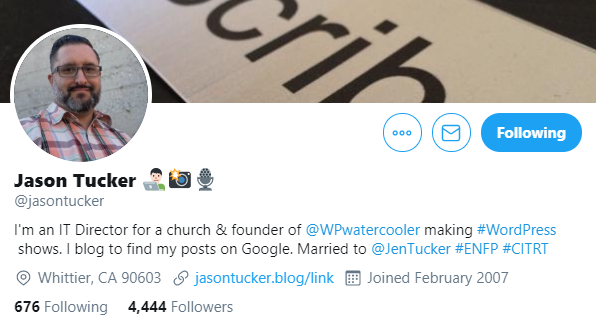 Jason is a WordPress website developer. He hosts seven WordPress podcasts and has over 10 years of experience in podcasting. He has been associated with CommunteCast, TuckerTales, Geekfit, WPwatercooler, WPblab, WPshowandtell and Hallway Track.
My tip for the WordPress community to someone that is just starting out would be to go on http://meetup.com and look for a Meetup that they can get involved in. Meetups are great because you get to meet people in your local community and are able to learn as well as teach.

We've been recording WPwatercooler for the last seven years and have talked about meetups quite a bit and I wanted to provide you with some links so that people can watch them and learn more about the experiences of us running and attending meetups.
Best known for: WP Watercooler
---
20. Bill Erickson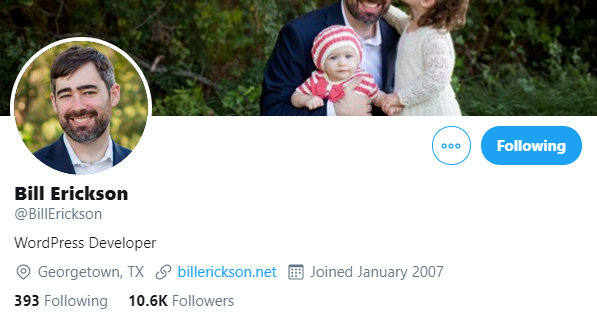 Bill is a WordPress developer and entrepreneur and has been developing with WordPress since 2006. He has written 19 WordPress plugins which have been downloaded 859,813 times. Bill also serves as a spokesperson and has spoken at 13 WordPress conferences.
Best known for: WordPress Plugin Developer
---
21. Thomas Griffin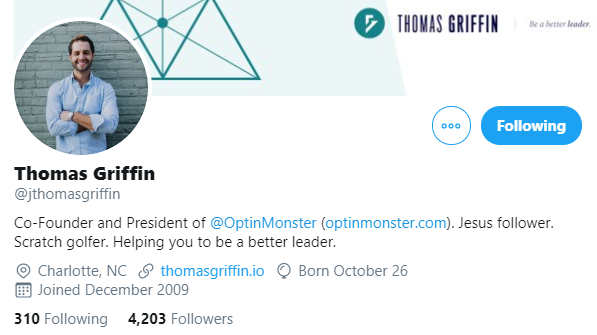 Thomas is the co-founder at Optin Monster. He is a WordPress developer and loves building cool things on the internet. Thomas is also the man behind Soliloquy, Envira Gallery and Singing Platform.
Best known for: OptinMonster
---
22. Mike Little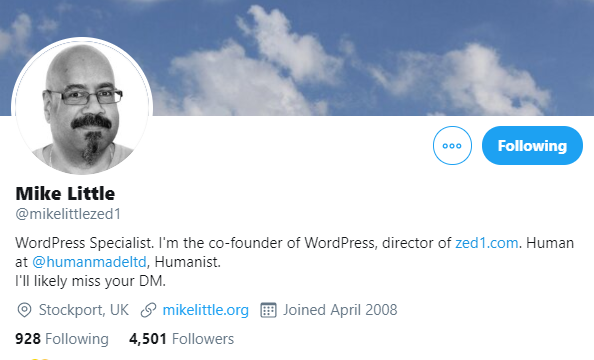 Mike Little is the co-founder at WordPress and founder of zed1.com, a WordPress specialist company that provides web development, training, and consultancy.
Best known for: Cofounding WordPress
---
23. Ben Gillbanks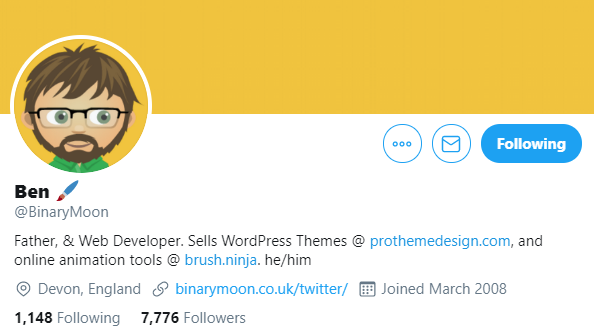 Ben Gillbanks makes WordPress themes and is a renowned WordPress developer in the WordPress community. He is the owner of Pro Theme Design. He has also worked previously as the director of web development at Miniclip.
Best known for: Pro Theme
---
24. Brin Wilson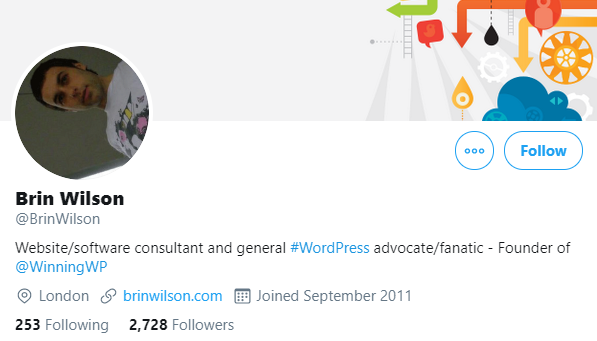 Brin has been associated with WordPress for a long time. He is the founder of WinningWP, a website dedicated to providing WordPress tips and tutorials to WordPress geeks.
Best known for: WinningWP
---
25. Mike Jolley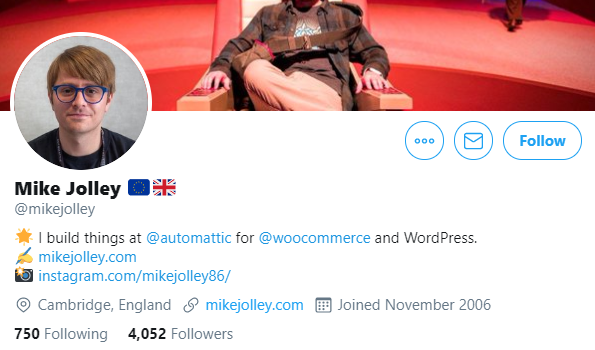 Mike is a lead developer at WooCommerce. With an extensive experience of 5 years, Mike has a keen interest in WordPress development. He is also the developer behind the popular plugin, WP Job Manager.
Best known for: Lead Developer, WooCommerce
---
26. Tammie Lister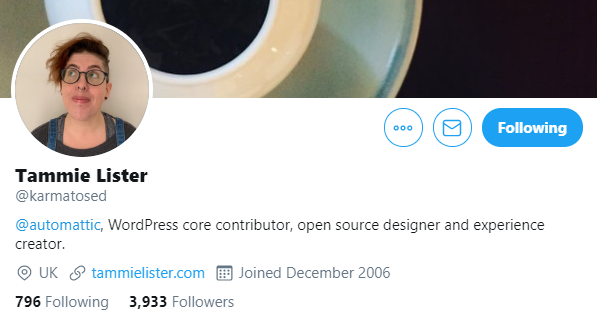 Tammie is a UX designer at Automattic and has been associated with WordPress for over 15 years. Her interest lies in web development, Buddy Press and front end development.
Best known for: WordPress Core Contributor
---
27. Peter Westwood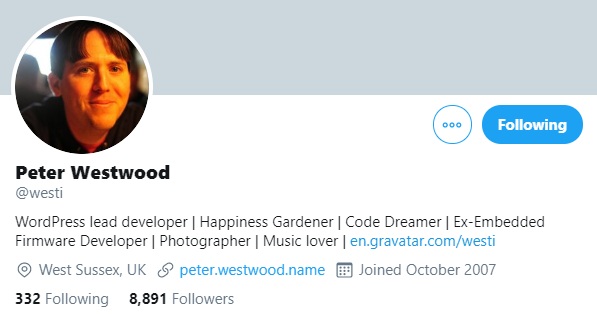 Peter is a WordPress lead developer and has been working with Automattic since 2010. He has contributed towards WordPress for over 12 years and is currently working on Big Data for WordPress.
Best known for: WordPress Lead Developer
---
28. Siobhan McKeown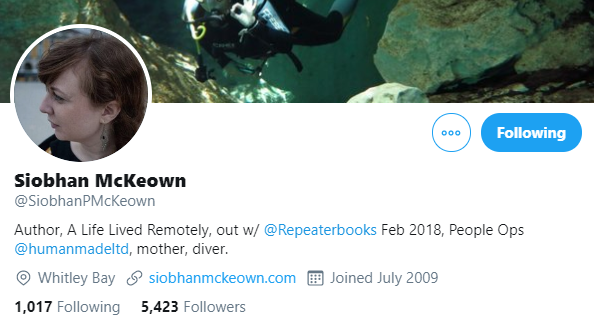 Siobhan is a WordPress writer who has covered WordPress in immense depth over the years. She owns WordPress for WP, a copywriting company that is dedicated to WordPress.
Best known for: Author, History of WordPress
---
29. Lee Jackson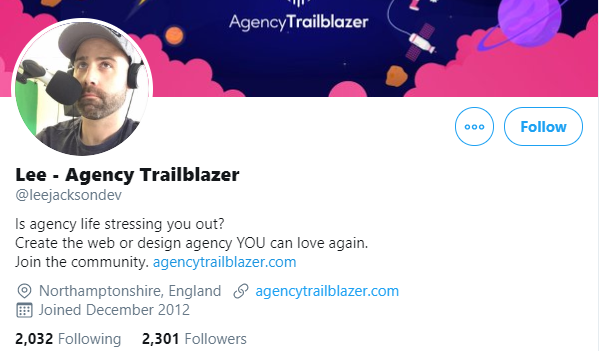 Lee is a lead WordPress developer and owns a WordPress development company. He has extensive WordPress experience and his consultancy is often in high demand. He also does WordPress podcasts for designers and is currently a Cloudways ambassador.
Best known for: Agency Trail Blazer
---
30. Dipak Gajjar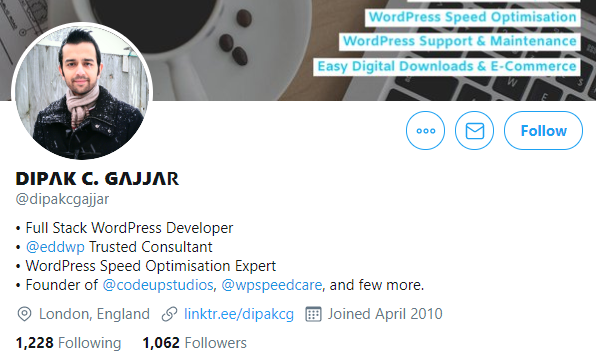 Dipak is a full-stack WordPress developer and has worked as a freelance consultant and server admin. He owns CodeUp Studios, a WordPress agency. Other than WordPress, he also has experience in Magento, Drupal, JavaScript, etc.
Best known for: Being a Full-Stack Developer
---
31. Alice Elliott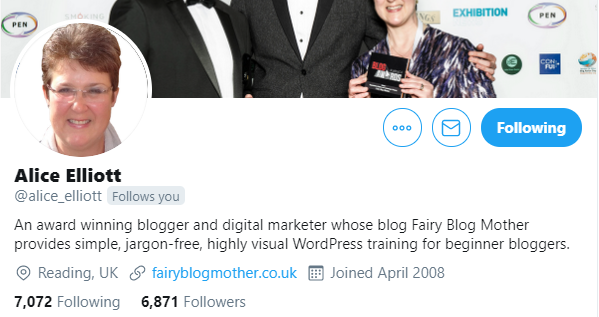 Alice has a huge social media following as a WordPress influencer. She is an award-winning blogger for her blog fairy blog mother and also provides training on blogging with WordPress. She is also a WordPress designer who designs blogs and websites.
Best known for: Fairy Blog Mother
---
32. Tom Willmot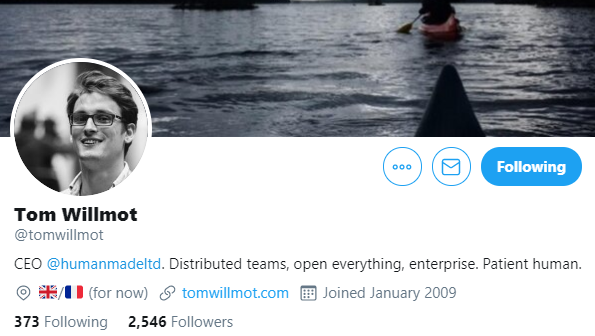 Tom is the co-founder of Human Made, a WordPress agency, where he is the CEO as well. He is a WordPress geek and has previously worked at Rufflr Limited as an adviser. He is also the director at Happytables.
Best known for: Human Made
---
33. Brian Jackson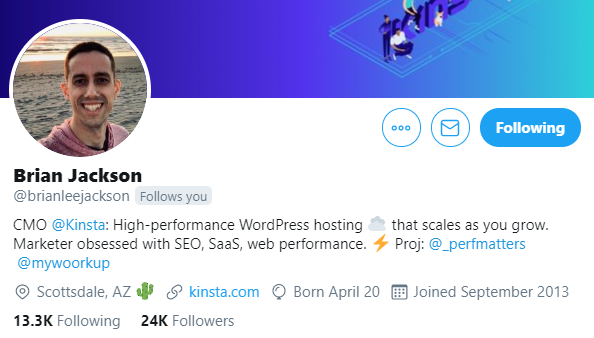 Brian is the chief in charge of inbound marketing at Kinsta, a popular WordPress hosting provider. He is into SEO and is also a blogger at woorkup.com. Brian is a 360 degree WordPress guy as he is also a developer at WP Coupons and perfmatters.
Best known for: CMO, Kinsta
---
34. Matt Cromwell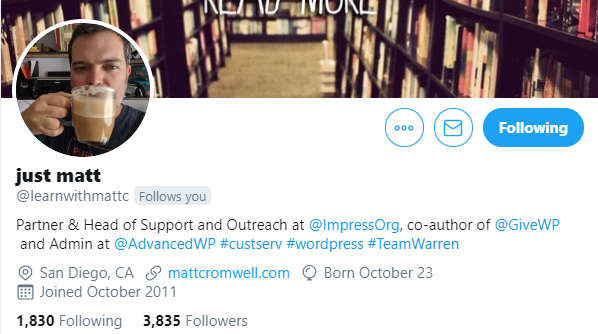 Matt is the head of support and community outreach at WordImpress, the company behind the popular donation plugin, GiveWP. He is the admin of the well-followed Facebook group, Advance WP.
The best way to enjoy and benefit from the WordPress community is to participate. Blog your thoughts readily and share them with your audience in an organic and natural way. Contribute on Twitter or in Facebook Groups to trending conversations related to all things WordPress. Then the best in-face places to contribute is in your local WordPress Meetups and WordCamps — these are invaluable resources that anyone doing anything in WordPress should take part in. I know personally I wouldn't be who I am today if I hadn't participated fully in the online and in-person life of the WordPress Community.
Best known for: GiveWP
---
35. Adam Silver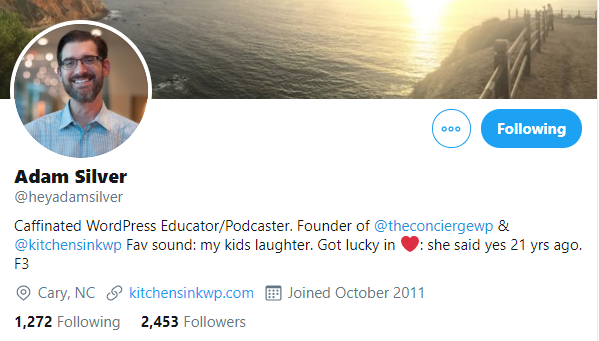 Adam is a WordPress enthusiast who has been giving back to the WordPress community through his teaching. He is a WordPress podcaster and the founder of KitchensinkWP, a popular weekly WordPress podcast. He also the founder of ConciergeWP.
Best known for: KitchensinkWP
---
36. Mario Peshev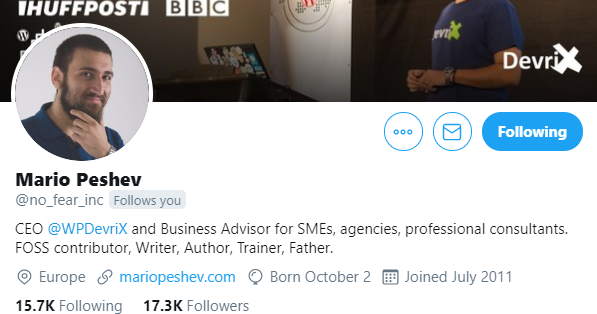 Mario is the founder of DevriX, a WordPress maintenance platform. He also provides digital consultancy to SMEs. He is a WordPress contributor and an Inbound certified as well.
Best known for: DevRix
---
37. Jenny Beaumont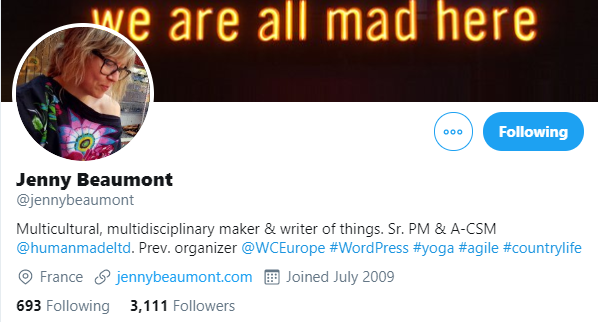 Jenny is associated with Human Made as a senior product manager. She is an active member of the WordPress community in France and abroad. She is also the organizer of WordCamp Paris and WordCamp Europe.
Best known for: Organizing WordCamp Europe
---
38. Brian Krogsgard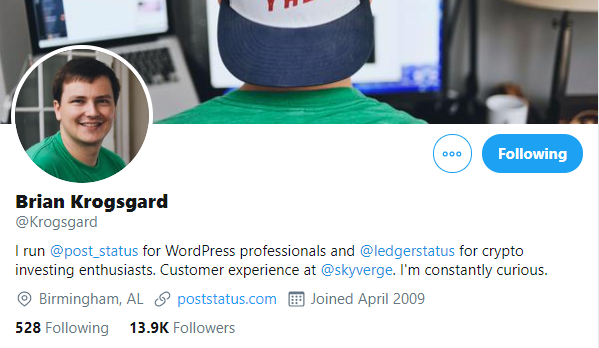 Brian is the editor at Post Status, a website for WordPress professionals. He also works at Commerce Notebook which is a website for ecommerce enthusiasts.
Best known for: PostStatus
---
39. Josh Pollock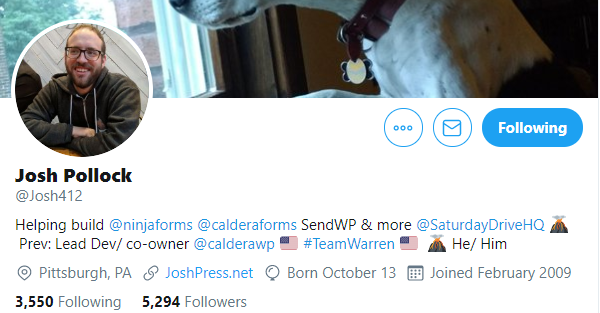 Josh is the founder and lead developer at Caldera Labs, makers of WordPress tools. He also teaches WordPress at Caldera Learn and has written a book as well "The Ultimate Guide To The WordPress REST API."
Best known for: Ninjaforms
---
40. Petya Raykovska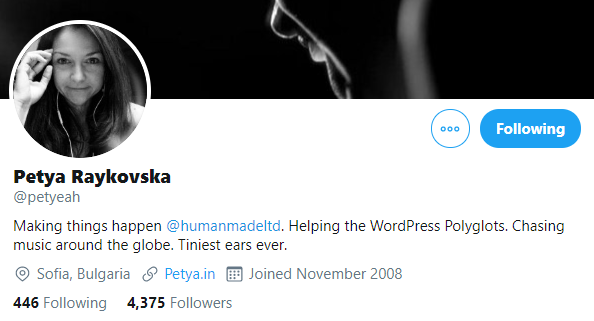 Petya is the senior project manager at Human Made. She is also the communication leads at the Polyglots team. Petya is also the organizer at WordCamp Europe.
Best known for: WordPress Core Contributor
---
41. Misha Rudrastyh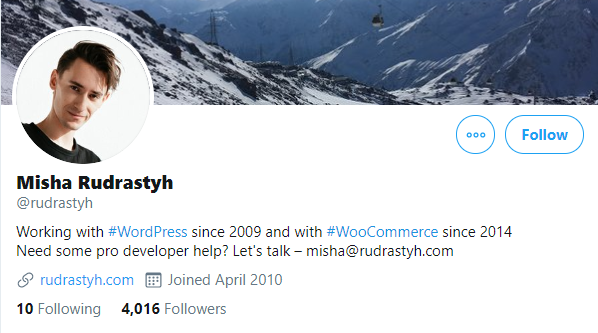 Misha is a WordPress expert who is passionate about beautifully crafted WordPress websites. He also develops plugins and some of the notable plugins by Misha are an Instagram widget and shortcode, MailChimp sync for user roles and WordPress meta boxes.
Best known for: WordPress plugin developer
---
Okay, so that was a comprehensive list of must-follow WordPress influencers. Whether you have an online store, a simple blog, or you're looking to launch a business on WordPress, following these people will give you all the guidance you need for quick success. 
So what are you waiting for? Get theme on your Twitter feed and start interacting with them!
Oh, and even though there are dozens of high-profile names on the list, there's a possibility that we might have missed out on heroes that keep the WordPress lantern. So if that's the case, please don't flip out on us; we're humans after all and sometimes our research isn't perfect. 
What you can do instead is email me at moeez@wpblog.com to let me know which influencer I've missed out on and I'll take it from there.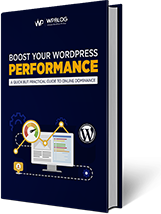 Create Faster WordPress Websites!
Free eBook on WordPress Performance right in your inbox.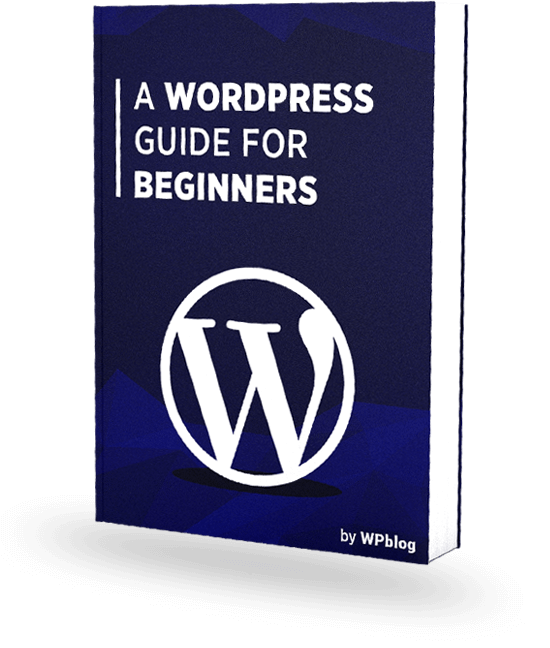 Create Faster WordPress Websites!
Free eBook on WordPress Performance right in your inbox.